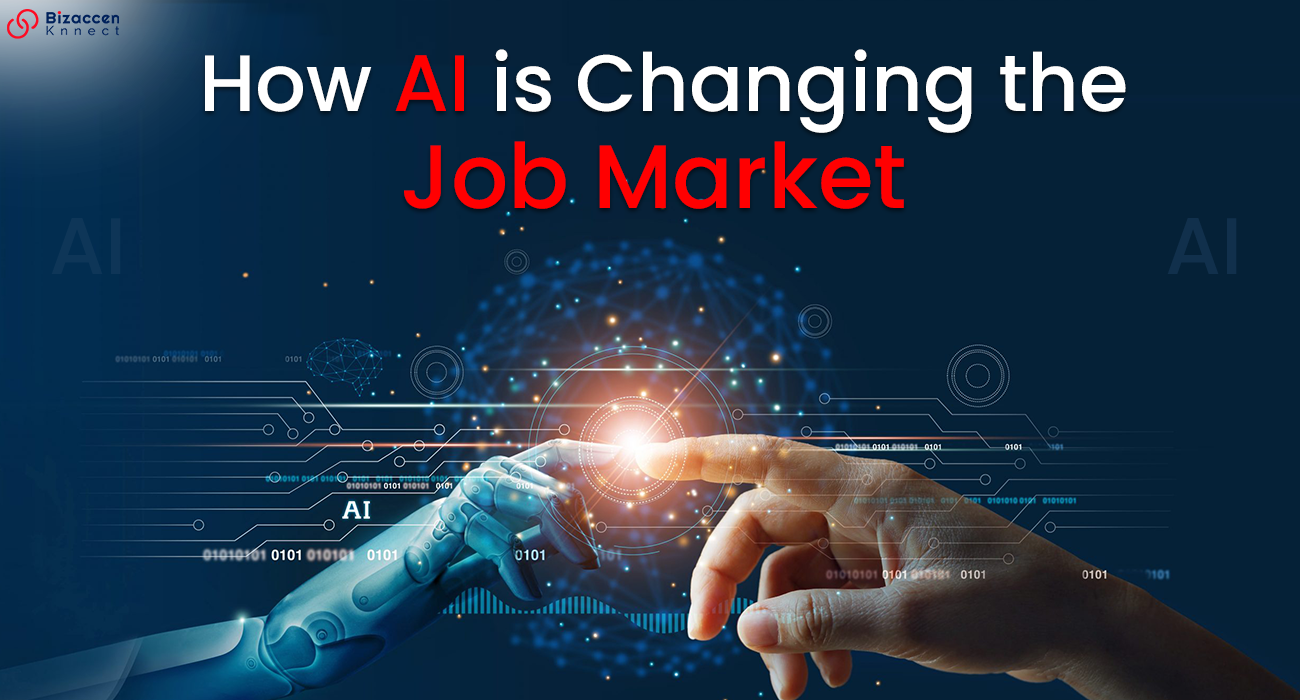 How AI is Changing the Job Market in 2023
Ekta
Did you know that in the blink of an eye, the job market can change? All credit goes to Artificial Intelligence (AI). Another name of artificial intelligence is human intelligence because it has the ability to make decisions like human beings. That is why it is known as one of the most powerful innovations of our era because AI is reshaping the way we live and work. Every business is aware of the fact that AI is rapidly changing the world of jobs and recruitment. 
With the invention of artificial intelligence there are so many new roles emerging, such as AI engineers, data scientists and automation specialists. Due to AI, the mode of work in traditional jobs is also changing. Now these jobs are also demanding new skill sets like data analysis, programming and AI ethics. If an individual or company wants to stay on the top of the market, they need to update to thrive in this dynamic job market. In this blog, we will explore the huge impacts of AI on job markets.
AI and the Job Market


In recent years, AI has become more prevalent in industries across the globe. From manufacturing to healthcare,

AI

is changing the way tasks are performed. This has both positive and negative impacts for the job market. The best part about Artificial Intelligence is that it can easily increase your work speed, save your money and improve the quality of services. 
The Positive and Negative Effects


With the help of AI, you can solve complex issues within minutes. Nowadays there are so many AI tools which can help you in writing long form content in one command. AI has made many tasks more efficient in various fields such as IT, healthcare, engineering, finance, etc. AI helps people to increase the productivity and cost savings for businesses. 

Upskilling and Reskilling


Companies

need people who continuously work on upgrading their skills. They hired people with relevant skills in their industry and offered them a good amount of packages. If you want to stay competitive in the job market, then you need to adapt and acquire new skills. The phrase survival of the fittest holds true here. 

AI in Recruitment
AI plays a crucial role in the world of job placement consultancies. These agencies use AI for matching candidates and jobs more efficiently, screening and evaluating resumes, handling initial inquiries from job seekers through virtual assistants, assessing candidate's skills objectively and identifying areas for improvement. 
Finding a good placement agency in Noida is not a tough job, you only need to do a thorough research or you can type  a job placement consultancy near me in Google search bar.
Conclusion

In India there are many cities and industries that are booming with the help of AI. Noida city is one of them that boasts a growing job market. If you are looking to outsource your HR functions to any manpower placement consultancy services in Noida, then we can help you. 
Bizaccenknnect, one of the best HR outsourcing companies in Noida that provides the best recruitment services. We want to bring a positive change in the society and world with the help of our HR services. Connect with us now. 
Related Tags- talent acquisition consultants, technical Recruitment consultancy, hr consultants in noida, top hr consultant in india, best hr consultants in noida