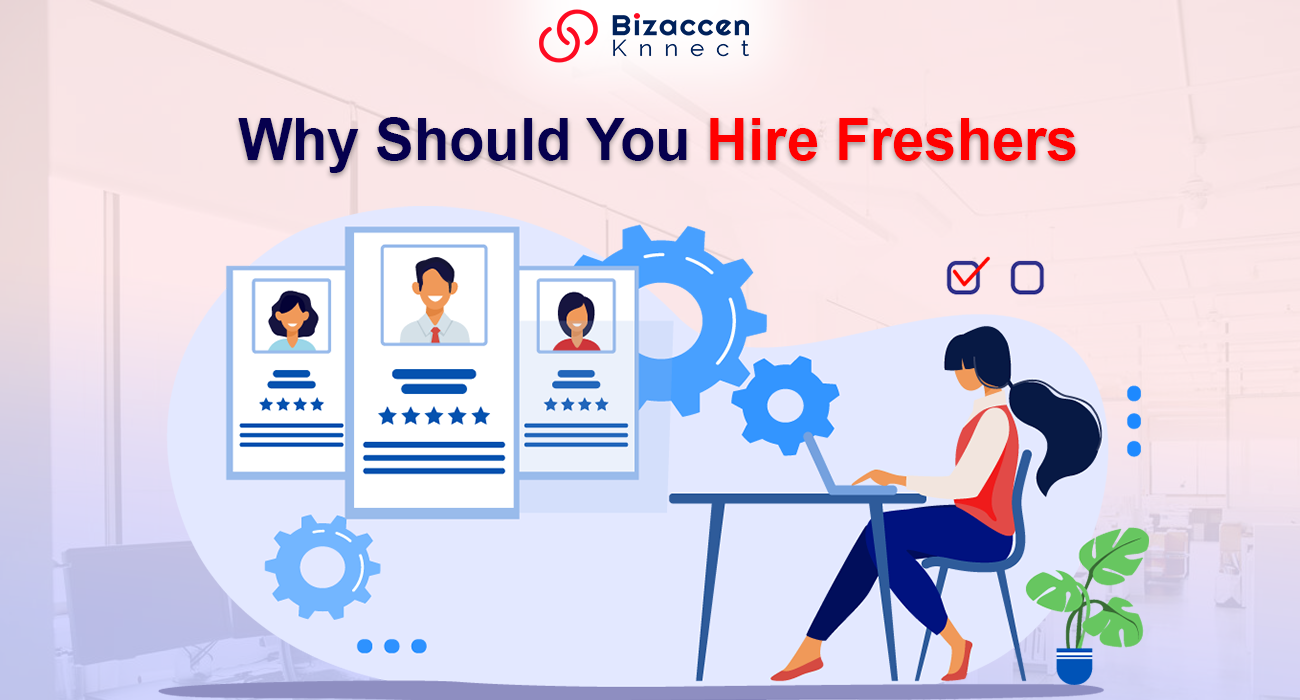 Why Should You Hire Freshers
Ekta
In this era of industrialization and growing technological advancements, your company should hire freshers over experienced candidates. We will tell you why should you hire freshers.
Fresh Perspective and Approach: 
1) Freshers see and approach problems with a much newer and rawer view.
2) Instead of following the traditional method to solve difficulties, they make efficient use of all possibilities and techniques and eventually can solve the problem in a faster and simpler way, due to their fresh perspective.
3) Being raised in this generation of technology, freshers can make efficient use of it to solve problems, instead of solely relying on theory.
4) They are also capable of pointing out errors that might have gone unnoticed previously, as the data is presented to them is new to being a part of their routine.
They are Eager to Learn and Grow: 
1) Hiring Freshers to have the curiosity and the will to learn, and they also can learn several things in a short period.
2) Freshers tend to have better employee retaining capacity and can focus on and understand problems quickly
3) Freshers have extensive knowledge in handling software and are equipped with the latest technologies
4) They solve, learn and grow and keep upgrading themselves to the best
5) They are highly efficient and are capable of boosting the overall productivity of the company
Freshers are Easy to Train and Adapt: 
1) As freshers don't have any prior work experience, they can be molded in any path.
2) Freshers are not biased and do not have many expectations. It is hence easy for them to adapt to the company's cultures and values.
3) Due to the lack of exposure, they can be trained as per the requirement of the position they are appointed to.
4) As Freshers are not burdened with too much work, they can devote long hours to efficiently studying and learning new things, which would make them achieve the required targets successfully.
5) Freshers also tend to listen to their senior employees and obey and learn from them.
Open to Feedback and Improvement:
1) Freshers always own up to their mistakes and always inculcate the suggestion offered by their senior employees in solving a problem.
2) They show high levels of interest in improving their performances and results to stay at par with their colleagues. This significantly improves the productivity of the company.
3) It is much easier to give constructive feedback to freshers than to other employees, because of ego issues.
4) Hence, freshers are open to feedback and suggestions offered by others.
Can be Helpful When Hiring in Large Numbers: 
1) Freshers, when recruited in large quantities, are capable of working together and coming up with innovative ideas.
2) When a company wants to hire a large number of candidates for various posts in their organization, it is desirable to hire fresh graduates from different colleges with a vast amount of exposure instead of conducting recruitment several times a year.
3) This way, the company creates a reliable talent pool to give tasks to and come up with solutions to problems
4) Freshers are also capable of mingling with other employees of their age group and completing tasks with a sense of team spirit.
Freshers Fit into the Company's Salary Budget: 
1) The salary offered to Freshers in most cases is lesser than the salary offered to an experienced employee.
2) This way, the company cuts down on its recruitment costs and can focus more on providing the freshers with proper training.
3) Hiring freshers helps the company to efficiently and quickly achieve targets since these young candidates put in many hours to succeed in attaining the goal on time.
Conclusion
Here are the above reasons why Should you hire freshers. Hence, hiring freshers boosts the productivity of companies to a great extent.