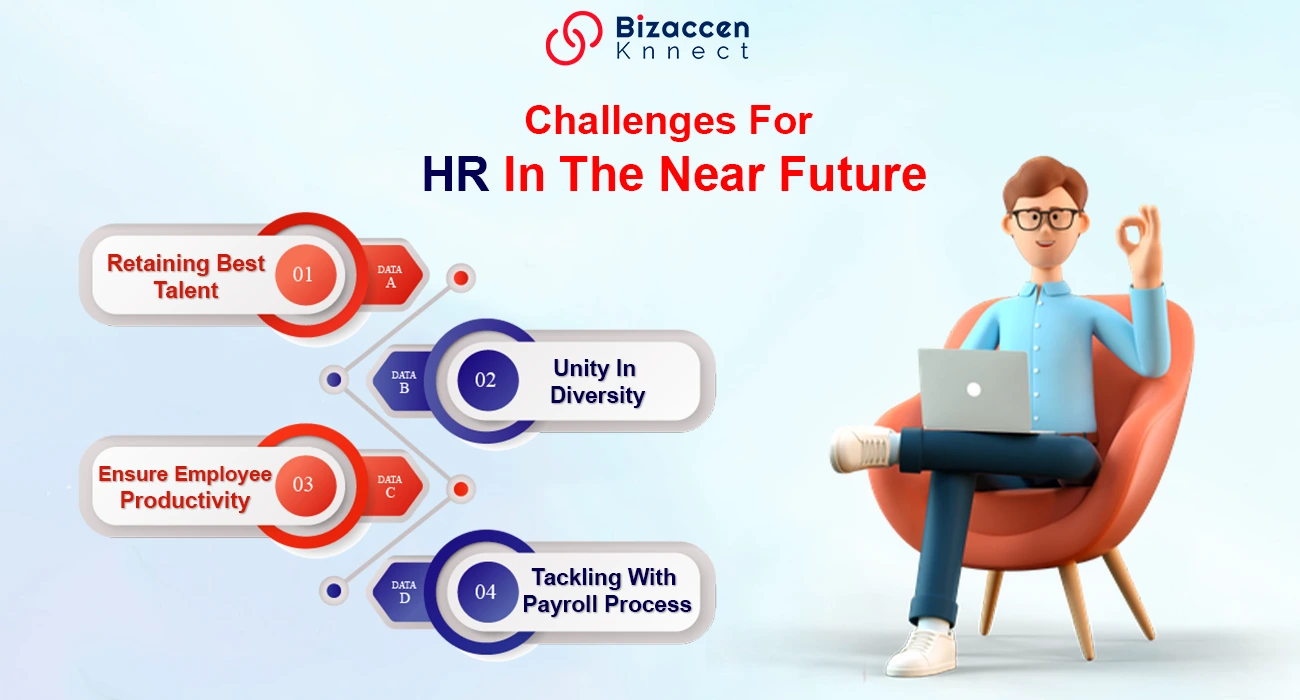 Challenges For Indian HR In The Near Future- All You Should Know
Ekta
Here we will try to cover all the possible Challenges for Indian HR in the Near Future. Human resource management is facing a lot of problems now a day because of the development of Internet-enabled technologies. It is predicted that businesses will face many human resource issues and the major challenge will be developing and retaining capable employees in the organization. HR professionals have faced challenges in managing workforces such as talent and leadership. More companies are becoming worldwide organizations and recruiting overseas, incorporating different cultures, and retaining talent. The emotional health of employees is also important as mental health.
Another Challenge for Indian HR in the Near Future is the human resource department has to manage demographics, manage change and cultural transformation, and manage globalization. Now human resource managers are also using social media websites like Facebook and LinkedIn so that they can recruit the best and most suitable candidates for different departments of an organization to enhance productivity. Human resources are also facing problems to provide a better work environment to employees due to the rise in prices. The human resource manager has to create a working environment so that it increases employee morale and improves performance.
Challenges for Indian HR in the Near Future
Human resource management can especially be a challenge for small businesses because they don't have a human resource department or may be limited to one HR person. Business owners need to understand the challenges faced by the human resource department so that they can deal with HR issues in their company.
There are some issues that can be faced by HR in the near future
1) Law and regulation
 Employment laws should be followed by every HR person or HR should maintain compliance with the laws and regulations. There can be changes in laws and regulations and it is the duty of the HR department to remain updated about that. Some companies ignore employment laws and believe that they don't apply to their business but audits, lawsuits, and possibly even close your company.
It does not matter what is the size of your company.  It's necessary to make sure you're in compliance with laws. There are regulations from hiring practices, to wage payment, to workplace safety and the company should go through it.
2) Retaining talented employee
There is a huge competition for retaining talented employees. Startups and small companies don't have big budgets as their larger competitors have such as retirement plans, expensive insurance plans, others, etc. Employee turnover is getting expensive for organizations and it can have a negative impact on business growth. Onboarding is highly effective for employee retention. According to the research having a structured onboarding process means that 58 percent of employees are more likely to stay for three years or more in a company.
3) Attracting Talent
Attracting talent takes a large amount of investment in time and money. It's difficult for small businesses to keep their business running and hire the right people at the right time. It is also very difficult to identify whether the employee is suitable for the job post until the employee has worked in an organization for a while.
One of the best ways to find a suitable employee for your business is that business can take help with staffing companies. Staffing companies provide temporary or permanent hiring solutions that allow businesses to try out new employees with little to no risk by these businesses can save time and money.
4) Management changes
With the growth of the business its strategies, structure and internal processes grow. Some employees face a hard time dealing with these changes. This can lead to employee de-motivation, decreased productivity, and a decrease in morale during changes. Human resource managers should communicate the benefits of these changes to everyone. Regular staff meetings should be conducted to make your team understands the why, how, and when of the change.
5) Leadership development
Leadership development can be critical to keeping your team engaged and motivated, and make them prepare to take on more responsibilities in the future. Leadership development should be considered as a culture this must create opportunities for them so that they can use their strengths every day. It helps employees to accomplish their goals and this will motivate them and give them a chance to develop their skills.
6) Employee training and development
Training and development of employees is another common problem of HR. Businesses have to deal with investment and they also face trouble in finding the resources to do so. Employees who are the hardest workers in the organization may not have the time for a training course. Training and development activities don't really require time or money. Recruitment of managers can help in mentoring their subordinate employees. Organizations can also provide online training courses to their employees.
7) Adapting Innovation in the organization
Technology keeps changing that why it is important for businesses to quickly adopt these technologies. It is a big challenge for small business owners to adapt innovations and technology in their organizations and make employees embrace innovation and learn new technology.
It is difficult to deal with any change, the organization has to make sure its team understands the importance and the reason for the change. Set clear goals for the employees, and provide them the training they need to get comfortable with it.
8) Compensation
Many companies are struggling with structuring employee compensation. Small businesses have to compete with businesses of a similar size and corporations with big payroll budgets.
Salary is important for an employee but it is not always the most important factor. There must be a system of rewarding employees for their excellent performance. With that incentive programs also encourage the employee to give their best.
Conclusion: Challenges For Indian HR in the Near Future
It's important to understand and know about common issues of the Human Resources Department that can arise in the organization and deal with the situation of conflict. It is also important because it helps the human resource manager to put the right policies and procedures in place. Understanding the complexities and importance of employee benefits, employment laws, leadership development, compensation, attracting and managing talent, etc. will help you stay ahead and meet your business. Issues such as cash flow, competition, and revenue growth should be dealt with through proper human resource practices.