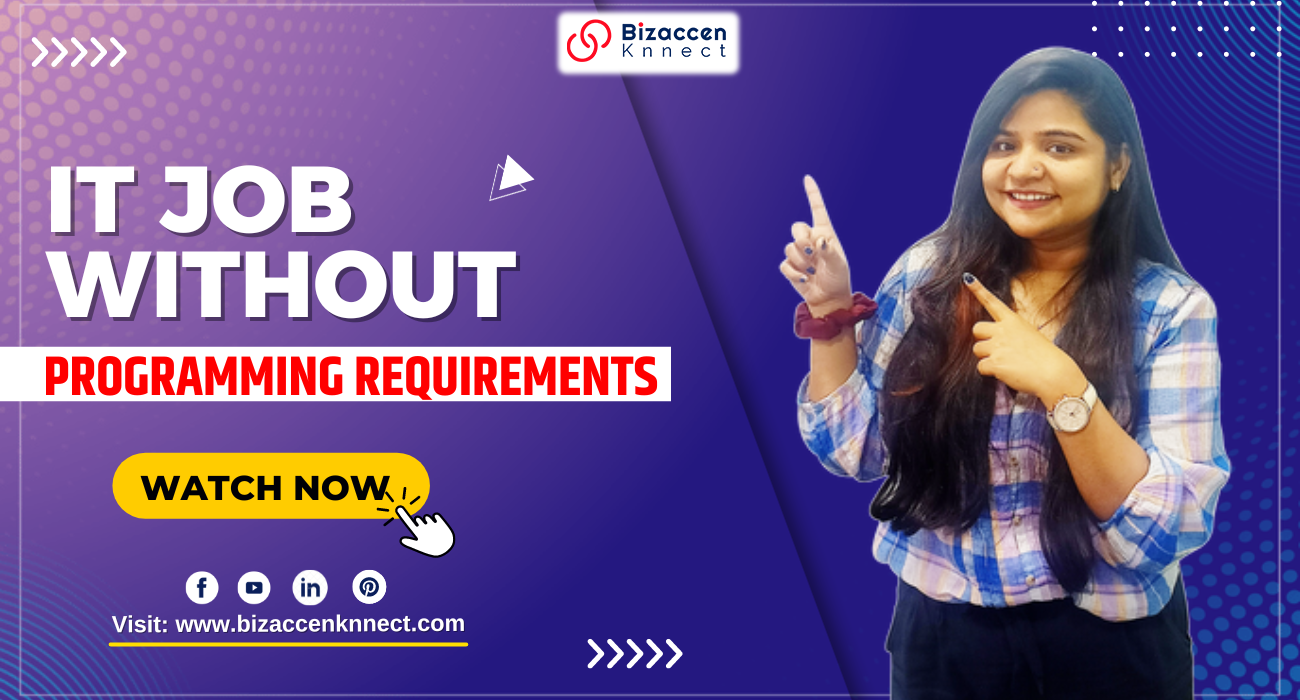 Technical Jobs Without Coding Skills || IT Jobs Without Programming ||
Biz blog
Can I get technical jobs without knowing coding? The answer is "yes"
In today's high-demanding skills era, coding is an excellent skill in tech industries. If you are somebody who fantasizes about getting into the IT industry but doesn't have an enthusiasm for picking up programming, then don't worry! 
Let me burst a major fantasy "Not every tech-related career requires you to be an expert programmer. The doors to the IT industry are still open to non-techies.
Some technical jobs that pay well don't have significant coding requirements. Nonetheless, your abilities and interest will assist you in climbing the ladder of success in the IT industry.
Here I am diving you into some of the best technical jobs without coding skills – 
1- Project manager
2- IT Support Specialist
3- UX designer
4- Graphic designer
5- Digital Marketing
6- Business Analyst
7-  Data Analyst
8- Technical Recruiter
9- QA Tester
10- Network Support Specialist
11- Technical Content writer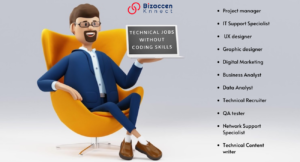 1. Project Manager
Being a project manager is a high-demanding career job with high salaries and plenty of variety at work. It comes in the top IT field jobs in India. The responsibilities of Project managers (PMs) are planning, organizing, and directing the completion of specific projects for an organization while ensuring these projects are completed on time, on budget, and within scope. 
Required Skills – communication skills,  critical thinking & problem-solving skills, risk analysis skills, time management skills, leadership skills, negotiation skills, and so on.
2. IT Support Specialist
Although you won't need to know how to code software for this job, the main responsibilities of an IT support specialist are to analyze, troubleshoot, and evaluate technical errors for the company.  It is the best option for those who want IT jobs that don't require coding skills.
Required Skills – Diagnosing and resolving project issues, time management skills, communication skills, hardware and software installation and management, removal of viruses, etc.
3. UX Designer
It comes in the demanding technical jobs for non-tech. UX designers are the one who needs to be proficient with programs like Adobe Creative Suite. Additionally, it is important to possess strong creative, imaginative, research aptitude, and problem-solving abilities in order to create designs that target the target audience's pain areas. 
Required Skills – Prototyping, wireframing, user flows, mockups, visual design & design software, User research and usability testing, Agile, Communication and presentation, and so on.
4. Graphic Designer
In the modern day, graphic design is an in-demand profession. A graphic designer's duties include developing hand-drawn or computer-generated visual concepts to express ideas that motivate, educate, inform and engage people. They construct the overall layout and production for stuff like advertisements, brochures, publications, and reports. This is the trending non-coding IT jobs for freshers 2022.
Required Skills – Creativity, visual communication skills, Typography, a master of Photoshop, Illustrator & InDesign, Branding, Delivering Presentations, Problem Solving, User Experience Design, etc.
5. Digital Marketing
Digital marketing covers a wide range of activities, such as luring clients through email, content marketing, online portals, search platforms, social media, and more. It is the best job in IT without programming. In this digital marketers must have a strategy for marketing and selling goods across several channels, including the internet, mobile devices, social media, search engines, and display advertising. Social media, email, pay-per-click (PPC), search engine optimization (SEO), and more are a few forms of digital marketing. It is also the best technical jobs for freshers.
Required Skills – Data Analysis, Content Creation, SEO & SEM, CRM, Communication Skills, Social Media, Basic Design Skills, Lead Generation, and so on.
6. Business Analyst
A career as a business analyst is advantageous since it provides competitive pay and several employment options. Business analysts analyze historical and present business data with the main objective of enhancing overall organizational decision-making processes. The work-life balance and job satisfaction of BAs are often very high.
Required Skills – Oral and written communication skills, Interpersonal and consultative skills, Facilitation skills, Analytical thinking and problem solving, detail-oriented and capable of delivering a high level of accuracy, Organizational skills, Knowledge of business structure, Stakeholder analysis, etc.
7. Data Analyst 
Data Analyst is a strong demanding career in today's times. A data analyst candidate possesses the skill of evaluating data to find important insights regarding a company's customers and ways the data can be used to address issues. Additionally, they provide this information to the management of the business and other stakeholders.
Required Skills – Data Visualization, Data Cleaning, MATLAB, R, Python, SQL and NoSQL, Machine Learning, Linear Algebra & Calculus, etc.
8. Technical Recruiter
The technical recruiter will work with hiring managers to establish reasonable technical requirements as they identify, recruit, screen, and present qualified candidates for technology positions.
Required Skills – Written and verbal communication skills, Organizational skills, ATS and Microsoft proficiency, The ability to negotiate, and so on.
9. QA Tester 
QA tester is one of the non-programming jobs for software engineers. A quality assurance (QA) tester is a professional who develops test plans to evaluate both new and current software, fix bugs in the code, and enhances the usability of the software. They may also be referred to as software testers, software test engineers, or QA engineers.
Required Skills –  Critical thinking, Flexibility, Excellent communication skills, Quick to learn, Collaboration and social skills, and many more.
10. Network Support Specialist 
The person who is a Network support specialist provides assistance and guidance to businesses and individuals using computers. They frequently support computer networks or give direct technical support to computer users. To make sure that networks are operating properly, they examine and assess the current network systems and carry out routine maintenance.
Required Skills – In-depth knowledge of network infrastructure, connectivity, and security, Superb analytical and problem-solving skills, Exceptional organizational & time management skills, Excellent interpersonal, communication, and collaboration skills.
11. Technical Content writer 
There are many employment prospects available in content writing, and the market is seeing an increase in demand for this type of work in particular. In order to accomplish a certain task, a technical content writer creates information in the form of blog posts, articles, eBooks, white papers, product evaluations, and buying and final guides to accomplish the particular task.
Required Skills – Adaptability, Time Management, Problem Solving, Grammar and Vocabulary, Research Skills, SEO and Content Strategy, Creative Writing, Editing, etc.