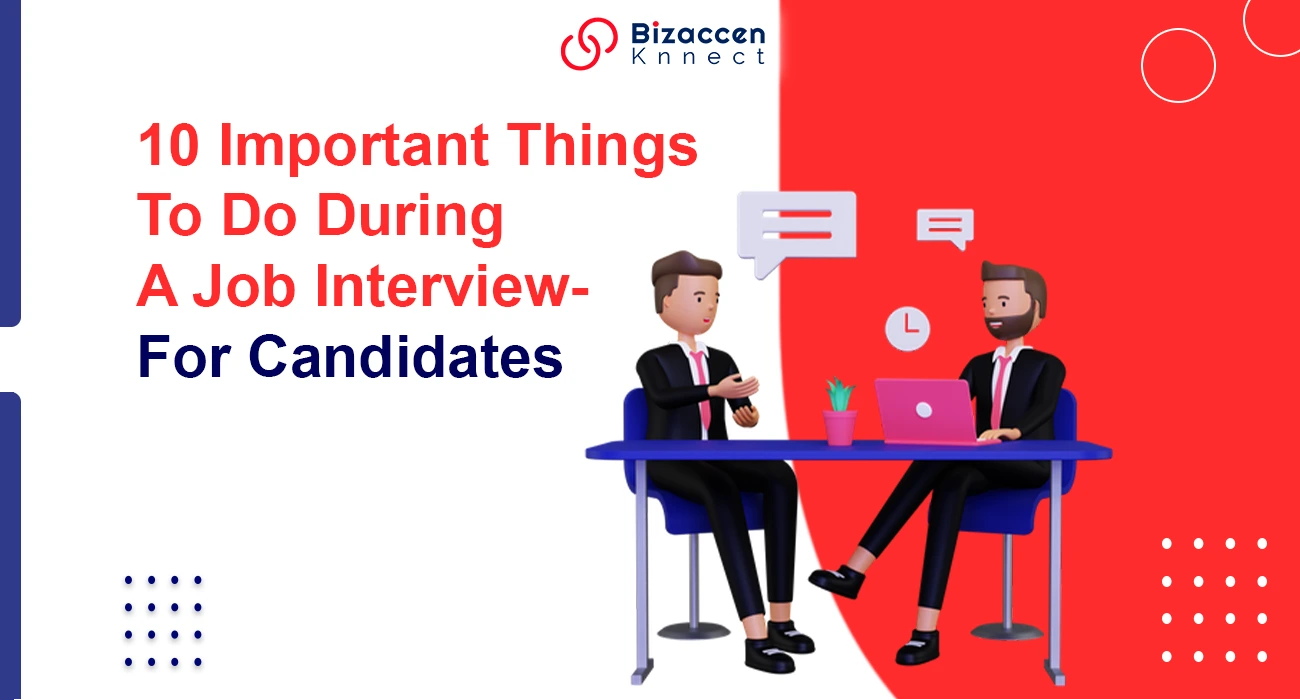 10 Important Things to Do During a Job Interview – For Candidates
Ekta
A job interview allows the candidate to show a potential employer how they can make themselves shine in this role and the company.  You tend to think of the interview as an audition for a job and also as a "sample" of your work because employers often see it that way. For this, you can prepare yourself for the job by taking the help of Hr services company.
But you have to bear in mind that you are interviewing the interviewers as well.  You need to consider whether this job and company are good for you.
Some important job interviews are mentioned below for the candidates to keep in mind.  Success in this very crucial phase of job search can be achieved by following these simple interviews.  The most important takeaways for how you need to present yourself during an interview to get the best shot at getting you the job are:
Some useful tips before the interview
Given below are some tips in preparing for the interview, which will help you:
1.Get to know your interviewers and the company first
2.Using the company's product
3.Ask for interview format
4.Prepare your answers to the most frequently asked interview questions
5.The job description must be read more than twice
6.Use the star method and answer the questions
7.Can ask for help practicing your answers
8.Prepare a reference list
9.Always come prepared with examples of your work
10.Have Smart Questions for Interviewers
You need to get an understanding of the interviewer's role in the company and the organization.  Learning this information helps you feel more confident in the interview.  You can study the company's website, recent press releases, and social media posts to understand the company's goals and determine how your experience best suits you.  You specifically search for its mission statement and overall objectives to enable you to talk about them with the interviewer.
Use the company's product
Regardless of the role you're interviewing for, you should always be using the company's product before the first interview.  It's better if you use it a few times because if you rent you will be representing this product or service.  You learn about the various features and how customers view the product.  You can showcase your knowledge during the interview to impress the hiring manager.
Ask for interview format
We all know that firms have different interview methods, so first find out what you should expect.  Some brain teasers, case questions, or specific interview questions may be asked.  You may be asked specific questions about most of the roles or you may need to solve a problem or complete a daily task.  Ask the HR manager what you can expect so that you can prepare adequately.
Prepare your answers for the most frequently asked interview questions
Be prepared for some common questions, such as, 'Tell me about yourself.'  You answer this question by highlighting your background and explaining what enables you to be for this job.  This may be the best way to present your elevator pitch.
Other common interview questions include:
1.Why do you want or want to work for our company?
2.What are your greatest strengths?
3.What are your biggest weaknesses?
4.How would your final supervisor describe you?
5.Why should we hire you?
6.Why did you leave your last job?
7.Tell us about a challenge and how you overcame it.
Read job description more than twice
You can highlight the specific classes and skills that seem most important.  You should also list examples of your current and past work that match these requirements.  This way it will help to show how you would be a good fit for the job, which is what interviewers expect.
Use the star method and answer the questions
You can expect the employer to ask you how you have applied a specific skill to your previous job.  You tell stories using the star method for:
Situation: Describe a specific challenge that you solved yourself.
Task: Can clarify your role in the situation.
Action: Describe the steps you have taken to overcome this challenge.
Outcomes: With what you have learned, you can explain the results you have achieved.
Ask for help practicing your answers
One effective way to work on your answers is to say them out loud.  You can ask a trusted friend and family member to help you go over the questions and answers, in addition to repeating them yourself.  Friends or family members need to be able to give constructive feedback about your answers and how you deliver them.
Prepare a reference list
Your interviewer may ask for a reference list immediately before or after the interview.  Having a reference list ready to hand out during the interview shows that you are prepared and organized for it.
Come to the interview prepared with examples of your work
At the time of the interview, employers will likely ask you about the specific work you would have completed related to the position.  After going through the job description, make a list of the jobs you have done in your previous jobs, volunteer positions, or clubs that help you show your expertise and success in doing that job.  Build and bring along a portfolio of examples if you can.
Have Smart Questions for Interviewers
Employers always prefer to hire applicants who come with questions.  Interviewers are interested to know about your seriousness in working with your company.  Below are some of the questions you can ask your interviewers:
1.May I know about some of the daily responsibilities of this position?
2.What qualities do you expect in someone successful in this role?
3.How and how often do you measure performance for this position?
4.You may also ask which departments does your team interact with regularly?
5.What do these departments use to collaborate?
6.How does this process work?
7.What are the challenges you are currently facing for this role?
Following are 10 important things for candidates to do during the job interview-
1. What to wear and what to say without words
Be sure to research the company before the interview, for this you can visit the company's website, Facebook page, Twitter feed, and other social media.  How does this company present itself, its workplace culture, and its employees?  If the company's dress code appears to be business casual, you can break out your slacks and dress shirts.  Also if it is more formal, one can dress up a head-to-toe part in traditional business attire.
Your project should be confident in body language.  During the interview, sit up straight, lean forward slightly, and look into your interviewer's eyes.  You smile and engage with each interviewer and nod slightly as you speak.
2. How to act
First of all, try to remain calm and relaxed.  Interviews are designed to see how you respond to a challenge.  This is the reason why so many interviewers try to throw that one unexpected question.  When it comes to this you try to be relaxed, flexible, and as attractive as possible.  Keep a smile on your face even if you don't have the answer ready.  This way helps the interviewer see that you don't get upset when you don't have all the answers.  If you need time to think about the answer, you can say, "That's a great question, give me a second to think. I want to give you a good answer."  If you do this once or twice, no hiring manager will fault you for it.
3. When to stop
Let the interviewer feel in control over you and let them take the lead.  You follow the general direction in which they are guiding the conversation.  It is likely that they have a few things they need to find out from you to know if this job is a good fit.  The more you help them gather this information, the better they'll feel about you as a candidate, even if you don't have experience or two in it.
4. Highlight
Go to your interview prepared to highlight your qualifications and the aspects of your background that you think to make you a good fit for the position.  Focus on the current position and company as well as relevant aspects of your qualifications that serve to make you a strong candidate.  Taking the time to research the company and job helps you remember what you have to say.  This way allows you to weave your knowledge into the answers to their questions.
5. How to listen
Regardless, your best strategy is to outline the key points you want to make in the interview ahead of time.  In addition, you also want to demonstrate that you are a good listener and can stay focused on your topic.  You have to listen to each question as it is asked and you may also like to take notes.  Then, calmly and confidently answer the question in a way that helps highlight your best qualities.
6. How to take advantage of your past
Bring up past successes where you think it appropriate.  But also make sure that you are consistently showing how these past achievements can bring value to your next employer.
7. How to compensate for your weaknesses
Try to be honest about elements of your experience or employment record that may not be ideal for the position.  If your resume has experienced layoffs or dismissals with gaps and, if you're missing out on significant experience or skills in the job description, be true to yourself, and then take advantage of the conversation on your strengths.
8. How to talk about past employers
Give diplomatic feedback about all your past employers, even if your tenure at your former job has ended badly.  You can try to find something positive that you can say about your past work experience on your resume.  Then focus on the skill you've acquired that can benefit your next employer.
9. What to ask
You should be prepared with questions based on your research of the company.  Do some industry research after checking out the company's website and social media presence.  Next, explore some of the innovations or developments that your potential employer may have noticed recently.  Asking questions during an interview shows your interest in the company, especially when your questions serve to demonstrate knowledge of the industry sector and the company.
10. How to Wrap Up and Get Out
How you end the interview depends as much on how you start it. In fact, both are important, as these are the two things that interviewers always remember.  So to end your job interview make sure you shake a firm hand, look into the interviewer's eyes, and say, "Thank you so much for your time. Nice to meet you and learn about the role,  And I look forward to hearing about the next steps."
You can also ask for a business card so that you can call or email the interviewer later if they do not provide you with a response within a reasonable time frame.  Also, consider asking what time frame to expect, so you can plan ahead.
Useful tips after interview
Once the interview is done, you can improve your chances of moving forward by following the tips below:
Ask for the next step
After the interview, it is better to ask your interviewer what you need to expect in the next week.  He or she will likely send you a follow-up email with your interview results and requests for additional requirements such as a reference list, assignments, or other interview requirements.
Follow up with a Personal Thank You Email
You can request a business card to send a personalized thank you email from each of your interviewers.  If your interview was in the morning, you can email your thank you note the same day and if your interview took place in the afternoon then the next morning is fine.  Be sure to keep each email separate from the others, using notes you wrote during the conversation.
Conclusion
It is very important to look confident and cool for the interview. One way to do all of this is by attending enough interviews that you can be comfortable with the process. If you can do some help in that department then you can take help from our HR services. Each is tailored to the different types of jobs that interest you and recruiters search to fill the top jobs with qualified candidates just like you. Additionally, job alerts can be accessed as soon as they become available. The more exposure you get, the sooner you will find yourself performing better in the interview seat.