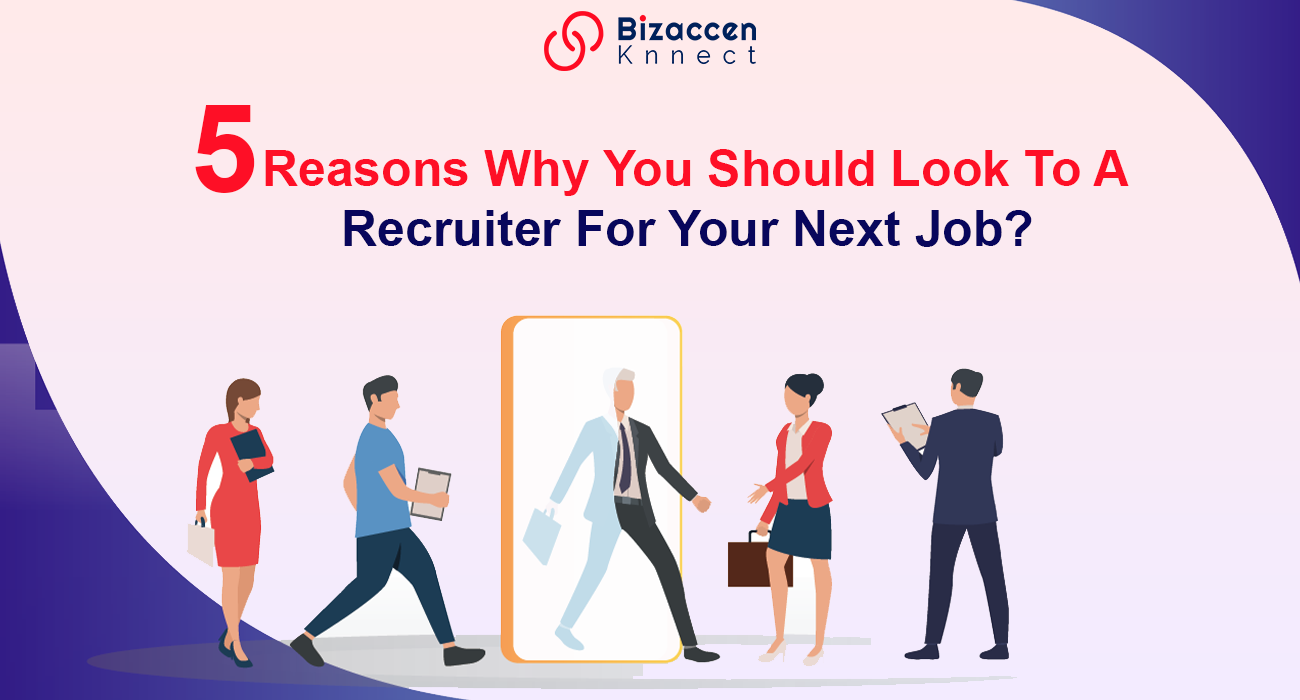 5 Reasons Why You Should Look To A Recruiter For Your Next Job?
Ekta
If you're preparing to leave your current job or enter a new workforce, your enthusiasm for a new career can often make even the daunting task of finding a job easier.  Want to go find those potential opportunities for yourself, or spend a little more time completing resumes?
Searching for a job for yourself may seem a little easier, because you have so many job boards like Google for Jobs, indeed, LinkedIn!  You can learn about all the companies in your area.  As time is changing, so too are people looking to change career paths and look for new opportunities.  Now it can be difficult to contact the job board itself in the company because it does not give information about the good way of the company.  That's why searching for jobs in different companies can seem daunting.  Recruiters can help you to solve your problem.
It's a must to consider working with a recruiter to make your job search process easier.  Because recruiters or recruiting agencies do not find themselves completely alone in their job search.  A job consultancy can match you with a job that requires your skills and experience.
You have to keep in mind that the job of a recruiter is not to find you a job.  Any employee hires recruiters by businesses looking for employees to fill their open positions.  Because they do not find jobs for people, but find people for that job.  Apart from this, you can get many benefits as a job seeker in the candidate pool of a recruiter.  Below are some reasons why you should use a recruiter in your job search.
1 Recruiters save you time in job searching.
How long does it take you to find job boards and send applications?  If you use a recruiter, you can split your workload.  A recruiter spends about eight hours a day trying to find a qualified candidate for his client. Those who are going to the recruiter know what jobs are available there.  They know full well that you are out and they put in a huge amount of time to make sure those jobs are filled.
There are other obligations involved in your life due to which you stay away from the job search.  You can also work for your current employer until a new opportunity comes to you.  You can take care of your family or do any other work.  Because using a recruiter saves a lot of time in your job search.
2  Recruiters have inside knowledge of hiring companies
Most recruiters have built a good relationship with potential employers.  So that they can tell you about the company, and this helps you decide whether this company will be right for you too.  This gives you valuable insight into the work environment as well as allows you to ask questions about the company.  Having a recruiter's overall idea of the company, salary, job requirements and in-depth understanding of the role can help you ensure that the role is right for you.
3 Resume and interview advice
One of the most remarkable characteristics of recruiters who are recruiters is their dedication to their candidate's success and ability to build relationships.  If one of their candidates is rejected by the role they were working for, they will send your resume for new future opportunities.  Recruiters get experts in their field, so they constantly guide their candidates, and help them to get the right job.
Additionally, a recruiter reviews your resume, providing pointers for completing the cover letter.  Offers candidates interview strategies to set up and succeed.  The best interests of their candidates are at the heart of recruiters even after getting job offers for the candidates.
4 Recruiters Can Give You Feedback Information
Once the interview is over, you can then wonder what you should have said had they balked at the question of their greatest achievement at work.  You should also be well aware that hounding HR for their feedback is not interview etiquette.  So being a recruiter means you'll have someone who has a more direct route to the decision-maker. 
You can get the response you are waiting for very quickly.  Companies these days have multiple candidates going through their application process and going straight to you means you may never receive a response.  If you have a strong relationship with a good recruiting consultant, you can still get constructive advice on the reasons for your failure.
5 Supports you and can negotiate salary
Supporting candidates is incredibly important in the entire application process of any job.  Having a conversation with a hiring consultant before going into the interview can help you refresh your memory of the job, what to ask and what to expect.  Having a quick chat once the interview is over can take away some of the worries and reassure you.  You need to realize that you are not doing this alone.  Taking the help of a recruiting specialist by you can boost your confidence in a big way.
On the other hand, the recruiter is aware of how much detail a company can potentially offer to the job.  Especially if they want to hire you. They can act as the person between you and your new employer if the company's salary is a deal-breaker.  It doesn't require you to engage in awkward negotiations about salary with your potential new company.  Also, you may not feel comfortable discussing or negotiating your salary as they may feel that you are only interested in money.
Conclusion
Everyone wants to secure their new job, but there are always pros and cons.  That's why the most important thing is to do what feels right to you.  One should only proceed with recruiters who offer truthful and clear advice that supports them through every part of the job process.  For the right match in your career, go ahead with it only by searching recruitment agencies near me having a good experience.  With more years of experience in the recruitment and consulting industries and a dedicated workforce with a track record of success across industries.  The purpose of which is to mentor businesses of all sizes and position candidates in their new roles.  Contact us today to complete your current job search..
Add Your Heading Text Here