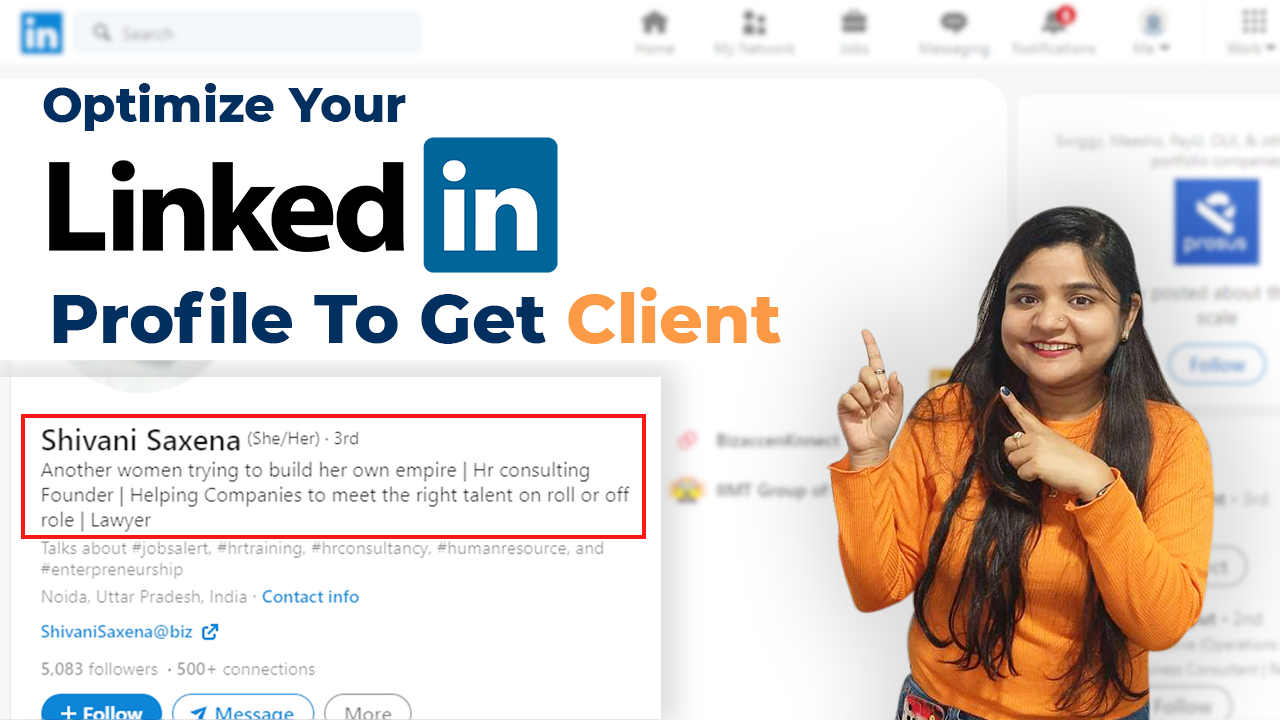 How To Optimize Your LinkedIn Profile To Get Clients
Biz blog
LinkedIn is a place where the world of professionals meet with each other and help each other to make their business/company more productive and successful.
Linkedin is the most useful place where you can get services or provide services, get jobs or provide jobs, get all types of cooperating world news, and many more things.
LinkedIn is a tremendous treasure of the market these days, but if your profile isn't optimized, you can miss them. You need a strong foundation for potential customers to land on if you want to attract customer loyalty. By optimizing your LinkedIn profile, you may stand out from the competition.
This blog will assist you in optimizing your LinkedIn profile so that future clients or customers can find you, feel confident in you, and desire to do business with you.
Main Reasons Why You Should Optimize Your LinkedIn Profile
1- You will appear more frequently in searches, increasing your visibility to potential consumers and clients.
2- You receive more calls and emails.
3- Your chances of being discovered by clients will increase dramatically.
4- Visibility is beneficial for your own brand.
5- As a result of your profile's professional appearance and relevance, people will view you as an authority.
6- You gain more clients for your business.
10 Important Tips To Optimize Your LinkedIn Profile And Get Your Dream clients.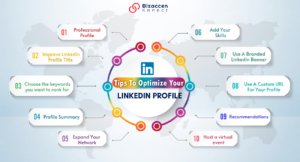 One of your most valuable assets is your profile picture. To create a favorable impression the first time, just choose only professional & HD images on your profile picture.
2- Improve the Title of Your LinkedIn Profile
This is the area where most of the users use LinkedIn Incorrectly. The ideal headline is pertinent, demonstrates what you do and what you can do for them, and is clear. You have 120 characters to be very specific about who you are and what you have to offer.
3- Choose the Keywords You Want to Rank For
When it comes to choosing keywords, You must be clear about the terms you want to rank for.
For reference, if you are a consultant looking to expand your clients, be sure to include keywords in your profile that potential clients may be looking for (also consider using hashtags in your profile).
4- Profile Summary
Create a detailed profile summary that outlines who you are and what you do. The following are some helpful hints for writing profile summaries:
A thorough description of who you are.
Things you can provide for prospective customers.
Whether or not you're willing to connect.
If you are a recruiter, you must update your contact details, including your mailing address and phone number.
Clear call to action, etc.
5- Expand Your Network
You need to figure out what content works for you in order to expand your LinkedIn network. 
Enhancing the appearance of your LinkedIn profile increases the chances that potential clients will discover you. So go ahead and create visibility by consistently posting relevant content on your profile.
6- Add Your Skills
Fill out your skills in the skill section. Your profile allows you to list up to 25 different skills. Once more, be sure to include your profile's most crucial keywords in this section.
7- Use A Branded LinkedIn Banner
You may build free LinkedIn banners on your own or use a tool like Canva to quickly generate a banner. 
The current ideal banner size is 1400 x 425 pixels. Make sure you use the fewest words possible in the banner. Make sure to be specific in your value offer and consider adding a call to action.
8- Use A Custom URL For Your Profile
You can share a custom URL with your audiences so they can easily remember your channel. 
Having a custom public profile URL will make it simpler for other users to find your profile and connect with you. To get more leads, you must use a customized URL in your profile. 
9- Recommendations
You can ask your network for recommendations. If a profile is replete with sincere and encouraging recommendations about the individual and his or her job, this greatly increases trust. 
This function can be used to your advantage: Go and request recommendations from your network and coworkers. It will be worthwhile. ‍
10- Host a Virtual Event
Hosting a virtual event is a fantastic way to foster community and draw visitors to your page. 
You can create a native event landing page using LinkedIn's virtual event promotion tools, share virtual events with ease with your followers, and maximize promotion with eye-catching call-to-action buttons and banners. 
Conclusion
You need to develop a strong strategy funnel if you want your LinkedIn lead generation to produce results.
I hope these pointers inspired you and emphasized how urgent it is that you immediately optimize your LinkedIn profile.